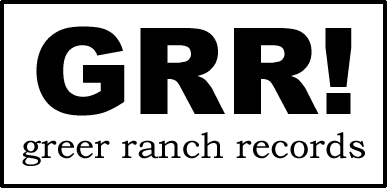 Greer Ranch Records is proud to announce its first ever release:
(p) 2004 Jeffrey Wade Greer. All songs copyright (c) 2004 Jeffrey Wade Greer except "Who Let Your Memory In This Bar?" copyright (c) 2004 Jeffrey Wade Greer and Richard Edward Zigler.
Lyrics and mp3s are provided to "spread the news," and so folks can try before they buy. If you enjoy the music, you can help us continue making more by buying the CD. It's currently available from Amazon.com, CD Baby, and My Texas Music. (See the links below. Pretty much everybody is familiar with Amazon; CD Baby is a cool indie online music store that's worth checking out on its own merits. MTM specializes in Texas music, which, well, makes it cool.) You can also buy individual tracks at Jeff's iTunes page. Thanks for checking out Greer Ranch Records!
Questions about (or additions to) this site? Email the webmaster.